Featured Beadmaker - Spring/Summer 2006/2007

Sarah Murphy
To suggest a Featured Artist, Teacher or Studio
email: webmaster@aussiebeadmakers.com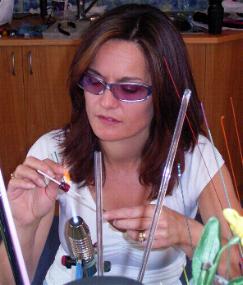 Sarah Murphy has been in an ongoing 7 year, very transformative love affair with Glass Artistry.
Starting out with Fusing and Slumping, dabbling with casting and enamels
before finally discovering the joys of Beadmaking about 3 years ago.
She counts personal study experiences with Peter Minson, Rocio Bearer (Florida), and Corina Tettinger
as being amongst many inspirations for her techniques and styles.
With Beadmaking now a solid major obsession, Sarah spends every posible spare moment in her Studio.
Have a look at the studio pics her website to see why! Yum!
Sarah's favorite bead style to make are Sculpturals and she offers her Beads and Jewellery for sale
on her website as well as at Markets in Kingston, ACT.
You can find the dates on her website:
www.goannaglass.com.au
| | |
| --- | --- |
| "Alfonso" | "Garden Landscape Bead" |
Tree Goddess"